Elopements in the middle of the woods are already pretty much my favorite thing but elopements in the middle of Oregon's gorgeous woods…. I mean I just about had a heart attack because I was so happy. Is there anything as beautiful as the lush forests of Oregon? I don't know, it's hard to beat, with the beautiful moss and waterfalls everywhere. I truly believe that this little cabin nestled in the woods in Mt. Hood is the perfect place to get married for those who want an adventurous and intimate celebration.
This perfectly styled, intimate elopement was a dream. Wesley and Brandon's tender love for each other just left me swooning hard. Wesley's bouquet was a bohemian dream. Kiss Me Kate Florals just nocked it out of the park! And the invitation suite by Gemini Design House was perfect! And I was just head over heals swooning over the beautiful purple tablescape. (I also think all tablescapes should from now on be in the woods, covered in lovely moss.) Every single detail came together just perfectly thanks to my girl Vicki Moyer and her amazing styling and planning abilities.
In typical PNW fashion it rain almost all day but the shade of the trees sheltered us from getting too wet and the sun even came out towards the end! We had the absolute perfect setting for this love filled day! I couldn't of been more happy with how it all turned out! I hope you all enjoy it as much as I do. Scroll down and enjoy the beauty of this intimate, perfectly styled elopement.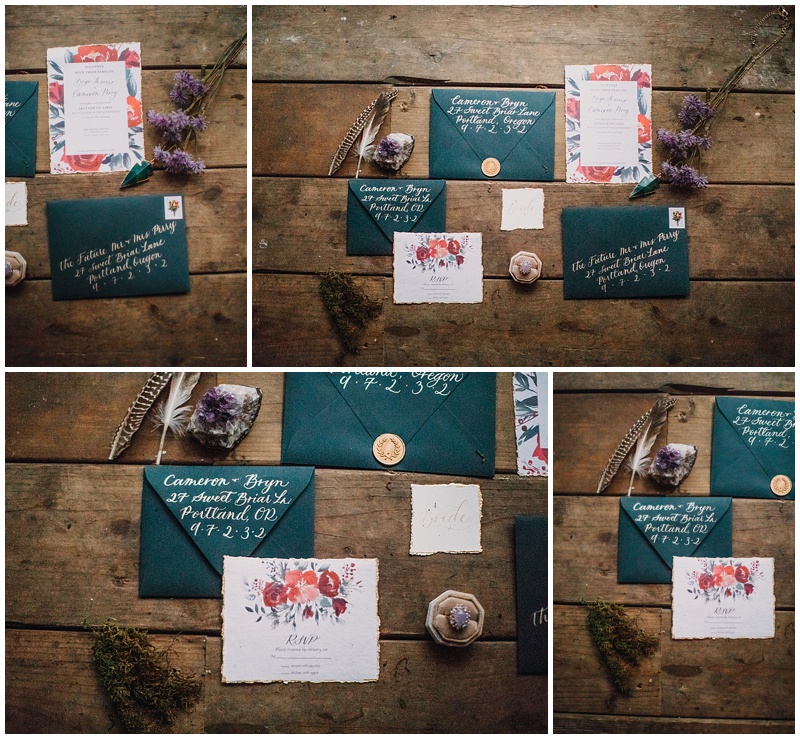 Keep scrolling to see all the amazing vendors that contributed to this beautiful day!
Invitation/Suite & Calligraphy : Gemini Design House
Florals: Kiss Me Kate Floral
Makeup Artist: Cru Artistry
Groom's Ring : Midnight Jo
Ring Box : Secret Keeper Box
Dyed Ribbon : Marivel Espinoza
Design/Styling : Vicki Moyer